---
Rydal has been a well established and respected day nursery since 1996. We provide child care for children on two floors aged between two years and four years.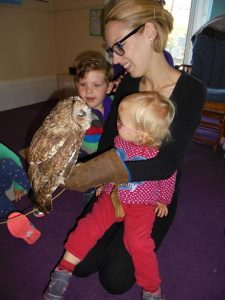 We adhere to government ratio's in caring for and supporting our children. We operate with a minimum ratio of one staff to three babies in our Tweenies room, one staff to four children in Jolly Tot's for our 2-3 year old's and upstairs one staff to eight children with our 3-4 year old's in Pre-school. We always have an additional member of staff who provides additional support to both children and staff throughout the day.
Tweenies are our children aged 8 months to 2 years. They are cared for in two rooms, we have a play room that opens out into our garden and a soft, comfy sleeping room upstairs.
Jolly tots are children aged 2 – 3 years. They play and learn on our ground floor in our two spacious rooms.
Pre-school are children aged 3 – 4 years. They play and learn on our first floor in our two spacious rooms, and an additional smaller room for small group activities.
We have a wide variety of toys and objects to investigate, explore and play with, which we regularly rotate in accordance to the children's interests and stage of development.
We aim to provide a variety of opportunities to enable all children regardless of race, culture, religion, gender, physical emotional or social disabilities or means, to develop to their full potential, learning to co-operate with others, enjoy new challenges and grow in confidence within a happy, secure and stimulating environment.
---
Special Educational Needs and Disability (SEND)
"At Rydal we passionately believe in bringing learning to life for all children. We believe all children have the right to learn, grow and develop in a safe and caring environment with committed and highly skilled Early Years Practitioners. We pride ourselves in the knowledge, skills and training our team have to support children with Special Educational Needs and Disability (SEND), medical issues, allergies and intolerance's.
We work hand in hand with other professionals to ensure children and families are supported at every step. We have strong relationships with the North Somerset Portage Service, Springboard Opportunity Group, Early Years Consultant, Speech and Language Therapists, Physiotherapists, Educational Psychologists, Nutrice (peg feeding training and support), Health Visitors and our Clevedon Children's Centre.
A child's needs and wants must always be at the centre and heart of every decision and their voice heard. Regular meetings are always made with a child's family to ensure everything in place is correct and the child and family are happy. We follow the SEND Code of Practice and documents produced by North Somerset Council to ensure we are meeting the needs of our children and families.
If you would like to discuss anything further with us, please do not hesitate to contact us."
---
Our Exciting Menu
After much research into child nutrition and family views, we have developed a nutritionally balanced menu with an extensive range of meals that cater for all our children's needs.
We provide a variety of alternatives for vegetarians, vegans, religious beliefs, allergies, medical conditions and parent preferences.
Monday
Roast Beef and all the trimmings
Apple, apricot & sultana squares
Tuesday
Chicken and spinach Lasagna served with green beans
Eton mess
Wednesday
Italian Meatballs and Spaghetti
Chocolate pear pudding
Thursday
Homemade fish pie served with peas
Caramel & apple crumble & custard
Friday
Thai Green Chicken Curry and rice
Fruit salad
Please don't hesitate to contact us if you have any queries or concerns or if you would like to see our full eight week menu.