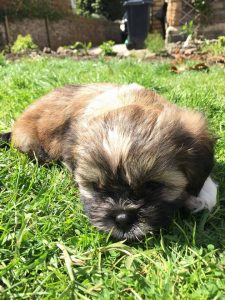 Bertie is the managers dog and comes to nursery on most days. Bertie is fully vaccinated, wormed and well groomed. Bertie has been coming to nursery from 8 weeks old and is excited every morning as she runs through the gate to the front door. Bertie is a unique breed of dog with Shih Tzu, Pug, Jack Russell and Chihuahua traits. Bertie is friendly, gentle and loves the children.
Bertie has meet and greet time with the children in the morning and joins the children for garden time at different times of day. The children stroke Bertie, talk to her, tell her stories and help to keep her fit with throwing ball for her in the garden. Bertie does like a sleep and spends lots of time in the office curled up sleeping in her bed.
This is what our staff think of Bertie:
"Bertie is a lovely, friendly dog who adds to the family atmosphere of Rydal. The children love to fuss and talk to Bertie" – Sheena
"Bertie is a great mood booster helping to settle children. She is friendly and loves to be smoothed and cuddled" – Deb
"Bertie is great company in the office and she keeps everyone happy and smiley, Bertie is loved by everyone at nursery and its not the same without her" – Mel
This is what our children think of Bertie: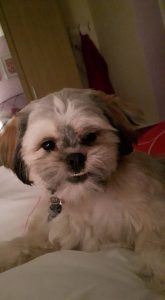 "I love to stroke Bertie cuddle her" – Ellie
"I like to play with Bertie" – Sienna
"I like to throw the ball and she catches it" – Tom
"Bertie is happy" – Louis
"She feels soft" – Finely
"I love stroking her" – Beni
"Bertie is my best friend" – Abi
This is what our parents think of Bertie:
"Bertie is a great dog and so lovable we feel its great she is in nursery with children and our daughter loves her" – Annie
"Bertie the dog whom he adores" – Rosie
"Having a dog in nursery is new and fresh idea and one has been a great success for the children" – Laura
N.B Bertie has been fully risk assessed to be with the children and is always supervised by a member of the Rydal team. The safety and welfare of the children in our care is of paramount importance.